Dallas PHP Programming and Custom Development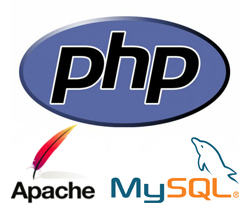 Want to create the next big thing, or create a new way to serve your customers? Placement Edge offers PHP Programming from a team of experienced web application developers serving customers in various industries. We can assist you with all of your custom application and programming needs beyond building off of open source or commercial projects.
When you need to create complex database driven PHP applications or dynamic pages to better serve your clients, call upon Placement Edge.
We focus on LAMP based development. That is applications built utilizing Linux, Apache, MySQL, and PHP (Hypertext Preprocessor). LAMP development is the leading choice for affordable, scalable web applications. There is a reason why websites like Wikipedia, Facebook, Yahoo and Flickr chose LAMP to change their respective industries: Affordability, rapid development, and scalability.
We understand marketing online
We are more than just programmers. We understand online marketing and how to promote your new product or service. We take the time to understand your businesses purpose and will customize a web application to meet your needs. With insight into how to market your application and what is effective, we do more than just meet your applications needs. We meet your overall business goals!
Many web design companies have the front end design skills to exceed their customers expectations, but lack the backend development skills required. Our team can work with your frontend developers to integrate with the backend, or handle both backend and frontend development. We work with many small web design studios absent of backend developers to create solid, highend backend systems and integrate with their frontend systems.
PHP Project Basics
1

Submit RFP / Project Overview

2

We verify your needs and discuss project details, answering any questions you have and providing any suggested modifications to your scope of work. At this point a Non-Disclosure Agreement is provided if required.

3

We confirm that we have a complete understanding of your project and your goals.

4

Scope of Work, project overview, time and cost estimates.
5

Confirm project and sign contracts.

6

Project is developed, tested, and access to testing server provided.

7

You confirm the work meets your specifications and adheres to the Scope of Work.

8

Any corrections or modifications are completed.

9

Project integrated with your existing website and/or backend systems.
Learn more about our programming service by calling 972-808-7923 or submitting your RFP.