Today, a mobile website is required.
Cell phones and tablets now account for over 13% of all web traffic. By 2017, mobile web users will increase by over 15 times. The majority of mobile traffic can be attributed to location based searches – if you operate a brick and mortar business you don't need a mobile website tomorrow, you need it yesterday.
While most mobile phones can view your normal website, the user experience is diminished. Mobile users expect to use gestures to navigate your website, they expect that clicking any phone number or address will launch the respective app on their cell phone. They won't view a PDF dinner menu, they don't want to memorize your address and then enter it manually in another application. If you offer a subscription service, you must allow mobile payments that are easy and secure – the same holds true if your intent is for a form to be filled out or an appointment scheduled. Smart mobile website design and application development allows you to better serve your customers and reduce expenses associated with managing needless phone calls.
Are you a mobile user? Can you remember how you felt the last time you visited a non-mobile optimize website on your smart phone only to find out you couldn't get the information you needed for a purchase decision? Did it cost the business a sale?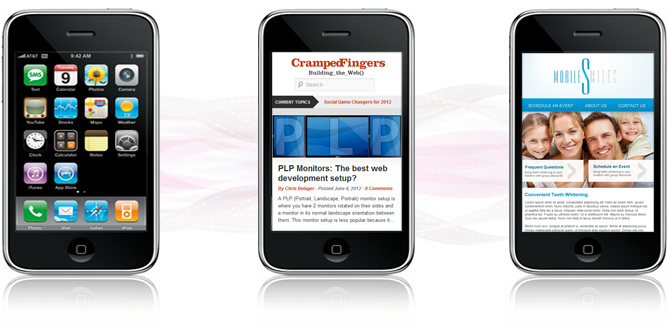 Mobile Web Design Process
When we create your mobile website we take into account the experience of your current website and blend it with the user experience of mobile devices. Our goal is to maintain the feel of your existing website, but to take into account your businesses goals and the intent of users visiting your mobile site. Common pages are easily reached with a single click. We analyze what is important for your users and present that information as readily as possible, be it: your phone number, address, account management, popular products, or a service menu.
We use special techniques to allow the website to support the maximum number of devices, or in some cases create mobile websites for specific devices. In fact, not only do we support Android, iPhones, and Windows Phones but nearly every mobile device made in the last 4 years, with full availability of content on legacy devices (accounting for only a very small share of visits due to the way phone upgrades are structured).
Users need not remember a special web address to visit your mobile website. We use a complex system to determine if a visitor is using a mobile device, and present the proper page for their device. Users are able to switch back and forth between your mobile and full website when on a device with a reduced screen size.
The mobile web is not the future, mobile web is now.
Call us now at 972-808-7923 to discuss your businesses mobile needs, or email us at hello@placementedge.com.